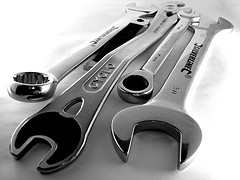 The dreaded moment, something just went wrong with your hearing aid! You dropped it into your coffee cup. You just jumped into the pool head first without taking them off. You just dropped it onto the concrete floor. You just…..insert your catastrophe here. Now what? First, take a deep breath. It will be ok. Where do you go for a good, quick, quality hearing aid repair? Depending on your circumstances, you have several options.
Options Include:
Go to your audiologist.
Find an audiologist if you don't have one.
Go directly to a repair lab.
Go to Your Audiologist
Assuming your audiologist is where you purchased your hearing aids, they may still be under warranty. Typically, there will be some level of warranty coverage. Talk to your service provider to see if you have coverage. This may save you $100-$200 in repair expenses. Worst case scenario, your hearing aid needs to be replaced. It's possible it can be replaced under warranty. Another advantage of going back to your audiologist is: they may be able to provide a loaner hearing aid until yours is returned from service. That's a great option to take advantage of! It's definitely an inconvenience to not be able to hear clearly while you're waiting on a repair. It can take up to a week from start to finish of a repair job.
Find an Audiologist
If for some reason you don't currently have an audiologist you can work with, it is relatively simple to find one. There are several available resources to find hearing aid help. With a little persistence you will find hearing aid providers that will meet your needs.
Get a referral from your family doctor.
Ask your health insurance company.
Complete a Google search for an Audiologist in your local area.
Use the yellow pages in your phone book or online.
For more details on finding a service provider you can read the following article:  Where Can I Get Hearing Aid Help? – Hearing Aid Providers
Go Directly to a Repair Lab
Going directly to a repair lab may be an option if there is one in your area. You can find one listed in your local yellow pages or complete an online search to see if there is one near you. It's possible this could save you a little time. However, some disadvantages are you will likely have to pay out of your own pocket and you won't be able to get a loaner hearing aid to use.
Maintenance Protects Your Investment
Periodic maintenance is beneficial whether there is a physical problem or not. Take your hearing aid into your service provider every 3-6 months to have it cleaned and inspected. This is usually free and may help you avoid a costly hearing aid repair in the future.